Fernando José Torres Sanz (born 20 March 1984) is a Spanish football player currently playing for Liverpool. He was born in Fuenlabrada, a large suburban town south of Madrid. At 17, he became the youngest player to play for Atlético Madrid and, two years later, the youngest to become its captain.
In the five seasons preceding his move to Liverpool from Atlético, Torres scored 75 goals in La Liga, a feat only bettered by Ronaldo, David Villa and Samuel Eto'o during the same period. Prior to that, Torres also played two seasons in the Spanish second division, where he scored seven goals in 40 appearances.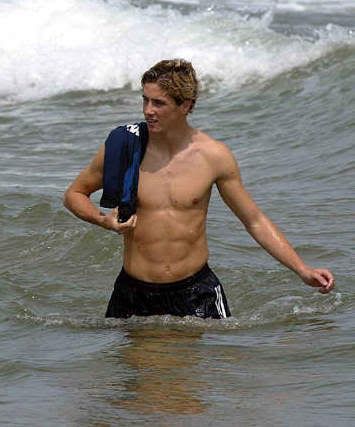 In February 2001, Torres won the Algarve Tournament with the Spain under-16 team. In May, the under-16s took part in the 2001 UEFA European Under-16 Football Championship, which they also won, with Torres scoring the only goal in the final.[2] He finished as the tournament's leading goalscorer (7 goals in 6 games) and was also voted the best performer.
In 2003, Torres made his senior debut for the full Spanish national team on September 6, 2003 in a friendly against Portugal. His first goal for Spain came against Italy on April 28, 2004. Torres was chosen as part of the Spanish squad for Euro 2004. He only appeared as a late substitute in Spain's first two group games, but made the first eleven for the deciding game against Portugal. Spain lost 1-0 and were eliminated. At his first ever appearance in a World Cup finals at the 2006 FIFA World Cup in Germany, Torres scored the final goal in a 4-0 victory over Ukraine with a volley. In the second group match, Torres scored twice against Tunisia, in the 76th minute for Spain to take the lead 2-1 and then again from a penalty kick in the 90th.