I watched Celebrity Come Dine With Me the other night and noticed Jonathan.  I remember him from G4 but haven't seen him about for a while.   Jonathan Mark Ansell (born 10 March 1982) is an English singer, formally the high tenor of the vocal group G4.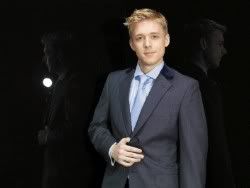 Jonathan Ansell was born in Bognor Regis in 1982. At the age of eight, he joined The West Sussex Boys' Choir, conducted by Arthur Robson, and stayed until his voice broke when he lost the ability to sing treble at the age of 15. He toured with the choir to Florida, Germany, and France, and sang in the Royal Festival Hall. After puberty Ansell found out he had developed a high tenor voice instead.
He attended the Anglican Bishop Luffa School in Chichester. "Achieved his Grade 8 as a treble at 13, he received his Grade 8 as a tenor at 17. He published a solo album in 2001 with his savings.
After a show-stopping performance of Love Changes Everything at a choral society concert in Littlehampton, his local MP, who was in the audience, arranged for him to have a preliminary audition at the Guildhall School of Music and Drama in London. He won a place two years later, and felt he had come home.